Popular SPG Credit Card Alternative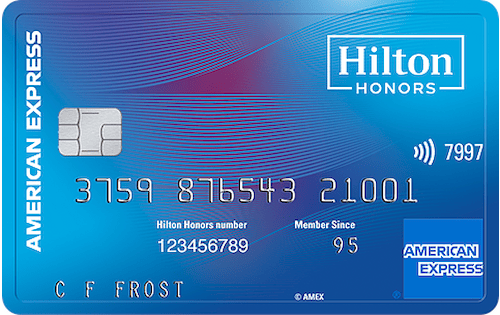 Rates & Fees
| Terms Apply
Regular APR
17.24% - 26.24% (V)
Rewards Rate
3 - 7 points / $1
Bonus Offer
100,000 points
Rewards Details
Earn 100,000 Hilton Honors Bonus Points after you spend $1,000 in purchases on the Card in the first 3 months of Card Membership. Plus, you can earn up to $100 in Statement Credits on eligible purchases made on the Card at any of the Hilton family hotels in the first 12 months of Membership.
Earn 7X Hilton Honors Bonus Points for each dollar of eligible purchases charged directly with hotels and resorts within the Hilton portfolio.
Earn 5X Hilton Honors Bonus Points for each dollar of eligible purchases at U.S. restaurants, at U.S. supermarkets, and at U.S. gas stations.
Earn 3X Hilton Honors Bonus Points for all other eligible purchases on your Card.
Enjoy complimentary Hilton Honors Silver status with your Card. Plus, spend $20,000 on eligible purchases on your Card in a calendar year and you can earn an upgrade to Hilton Honors Gold status through the end of the next calendar year.
Terms Apply.
Additional Info
No Foreign Transaction Fees. Enjoy international travel without additional fees on purchases made abroad.
No Annual Fee.
The Verdict: The Starwood Preferred Guest® Credit Card from American Express is the perfect travel companion for fans of hotel brands such as Westin, Sheraton, St. Regis and the seven other members of Starwood's luxury lodging portfolio and, more recently, Marriott.
All things considered, the Starwood Preferred Guest® Credit Card from American Express could yield the average person around $1,800 in value over the first two years — according to our calculations — even considering the $95 annual fee that kicks in during year two. However, that assumes use of the card for all purchases, not just for hotel reservations. The card can still be valuable when used more selectively.
The Highlights
75,000 points

: If you spend $3,000 during the first three months that you have this card, you will receive 75,000 bonus points.
6 Points Per $1 Spent At Starwood: You'll earn 6 points per $1 spent on Starwood and Marriott reservations and in-hotel purchases charged to the card. That means that you'll be earning the equivalent of 5.94% cash back, provided that you redeem points for reward nights rather than SPG's other, less valuable redemption options.Unfortunately, reservations at a Starwood-family hotel that are booked through a third-party travel comparison site, such as Kayak.com or Expedia.com, do not qualify for this heightened earning rate (see The Lowlights section for more details).
2 Points Per $1 Spent Everywhere Else: This is the SPG Card's base earning rate, and that is above to what's offered by the average credit card. SPG points are worth roughly 1.98% back on every non-Starwood charge you make to this card.
No First-Year Fee: Depending on how you look at things, this first-year fee waiver could be considered a $95 value or just a sneaky way to get you on the hook in the out years. But one really can't complain about not having to pay for the pleasure of earning such a valuable initial bonus, at the very least.
The Lowlights
$95 Annual Fee Starting Year Two: Ninety-five dollars isn't egregious for a hotel rewards credit card, especially when you factor in the first-year fee waiver, but it's certainly not cheap, either. If nothing else, it should give you pause about keeping the card open past your first account anniversary – which is when the first $95 charge will be assessed.
Zero 0% Intro Rates: It's become popular for even rewards credit cards to offer no-interest introductory periods for new purchases, balance transfers or both. The

Starwood Preferred Guest® Credit Card from American Express

offers neither. As a result, it should be used strictly as a rewards-earning vehicle, which means you should always pay your bill in full when using it.If you're looking for a card to reduce the cost of existing debt or save money on an upcoming big-ticket purchase, check out our editor's picks for the Best Balance Transfer Credit Cards and the Best Credit Card Rates.
High Regular Interest Rates: If you decide to submit an application and are approved, you will be assigned a variable APR that could be anywhere from

17.99% to 26.99% (V)

, depending on your credit standing. The low end of that range is below the 14.41% average for people with good credit (the credit level needed for approval), but the high end is actually pretty close to the 22.57% average for people with fair credit. This should underscore the importance of not carrying a balance on the SPG Card.
Booking Restrictions: We, as consumers, are growing accustomed to booking travel through third-party aggregators such as Kayak.com, and, though progress may seem slow, mobile wallets are on a collision course to ubiquity as well. That's why it's so annoying that SPG and Amex bury the following details in the card's terms and conditions:"Purchases made through a third-party payment account or on an online marketplace (with multiple retailers) will not earn additional points. A purchase may not earn additional points if the merchant submits the purchase using a mobile or wireless card reader or if you use a mobile or digital wallet."In other words, you'll earn only 2 points (instead of 6 points) per $1 spent on Starwood reservations if you don't book directly through Starwood. And even if you do, you still won't get full freight if you complete the purchase with Apple Pay, Android Pay, Samsung Pay or any of the other emerging mobile wallet offerings – all of which have partnerships with Amex.
Other Things To Consider
No Foreign Transaction Fee: This increasingly common feature will prove quite helpful if you do business with internationally based merchants or if you plan to visit one of the nearly 700 Starwood-brand hotels that are located outside of the U.S. The market-average foreign transaction fee is currently 1.50% of any purchase processed in a currency other than U.S. dollars.
Annual Credit Toward Elite Status Beginning Year Two: If you're interested in long-term SPG loyalty, you'll be happy to know that cardholders receive an annual credit equal to one-fifth of what's needed to qualify for Gold Preferred status each year.