Pros
Solid initial bonus
Delta Sky Club and Centurion Lounge access
Good ongoing rewards for Delta loyalists
Rebates, credits & perks for travelers
No foreign fees
Cons
High annual fee
Not for light-spenders
Must fly Delta to maximize perks
Delta Reserve Review Verdict
The Delta SkyMiles® Reserve American Express Card is a high-end travel card that's best for high-spending loyal Delta Air Lines customers who enjoy airport lounge access. In return for the card's $550 annual fee, Delta Reserve cardholders get a free first checked bag and priority boarding on Delta flights. Moreover, cardholders are rewarded with complimentary access to The Centurion Lounge and Delta Sky Clubs with the purchase of a Delta flight charged on the card, a 20% rebate on most in-flight Delta purchases, and a regular fee credit for either Global Entry or TSA PreCheck, among other perks.
That said, given the annual fee, Delta Reserve isn't a credit card for low-spenders. Its best perks are used while traveling on Delta flights. While Delta Reserve offers a fast way to gain "Medallion" status in Delta SkyMiles – Delta's loyalty program – these status levels aren't exactly cheap to maintain. And unlike some other premium travel credit cards, the best perks of the Delta Reserve Credit Card won't follow you past Delta Air Lines.
If you can't decide whether or not the Delta Reserve Credit Card is for you, read on for a digest of the card's most notable facts and features.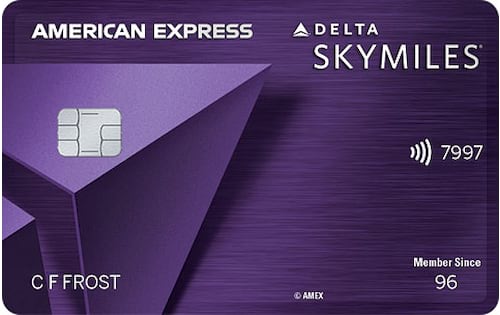 Rates & Fees
| Terms Apply
Regular APR
15.74% - 24.74% (V)
Rewards Rate
1 - 3 miles / $1
Rewards Bonus
80,000 miles
Rewards Details
Limited Time Offer: Earn 80,000 Bonus Miles and 20,000 Medallion® Qualification Miles (MQMs) after you spend $5,000 in purchases on your new Card in your first 3 months. Offer expires 11/10/2021.
Earn up to 60,000 Medallion® Qualification Miles (MQMs) with Status Boost® per year. After you spend $30,000 in purchases on your Card in a calendar year, you can earn 15,000 MQMs four times per year, getting you closer to Medallion® Status. MQMs are used to determine Medallion® Status and are different than miles you earn toward flights.
Receive a Domestic First Class, Delta Comfort+® or Main Cabin round-trip companion certificate each year upon renewal of your Card.*Payment of the government-imposed taxes and fees of no more than $75 for roundtrip domestic flights (for itineraries with up to four flight segments) is required. Baggage charges and other restrictions apply. See terms and conditions for details.
Complimentary access into the Delta Sky Club® for you when travelling on a Delta flight.
Enjoy complimentary access to The Centurion® Lounge or Escape Lounge – The Centurion® Studio Partner when you book a Delta flight with your Reserve Card.
Fee Credit for Global Entry or TSA Pre✓®.
Enjoy your first checked bag free on Delta flights.
Earn 3X Miles on Delta purchases.
Earn 1X Mile on all other eligible purchases.
Terms Apply.
Additional Info
No Foreign Transaction Fees.
$550 annual fee.
Delta Reserve Credit Card Review Highlights
Good Initial Bonus
Delta Reserve's initial bonus is 80,000 miles for spending $5,000 in the first 3 months. Delta miles are worth 1.37 cents each, on average, which makes this bonus quite lucrative. Plus, you earn 20,000 Medallion Qualification Miles (MQMs) with the bonus, which is a nice shortcut towards qualifying for Delta SkyMiles' lowest Medallion status tier. This is a limited-time bonus offer, which ends 11/10/2021.
Good Ongoing Rewards Rates for Delta Purchases
Delta Reserve gives 1 - 3 miles per $1 on purchases. Cardholders will earn 3 miles per $1 spent on Delta purchases and 1 mile per $1 spent everywhere else. Delta purchases give more per $1 spent if cardholders reach Delta Medallion status, too.
Also, Delta Reserve makes it easy to fly with a friend by giving cardholders one complimentary companion flight pass – called a Companion Certificate – every year they renew the card. Each pass is good for one round-trip Domestic First Class, Delta Comfort+, or Domestic Main Cabin fare, on the same itinerary as the cardholder's flight (taxes and restrictions may apply).
No Foreign Fee
The Delta Reserve Credit Card's foreign transaction fee is 0%. In contrast, credit cards with foreign fees charge an extra 1%-3% on every purchase processed abroad – whether the purchase is made in person or online.
Delta Reserve Credit Card Review Lowlights
High Annual Fee
The Delta Reserve Credit Card's annual fee is $550 – which is hundreds of dollars more than the average credit card's annual fee. This annual fee is on par with the best premium travel credit cards, but many of those don't tether cardholders to a single airline.
Potential for High APR
Delta Reserve's regular APR range is 15.74% - 24.74% (V), and only the most qualified applicants will get the lowest APR in that range. With an annual fee as high as Delta Reserve's, cardholders will not want to be caught spending even more by carrying a balance on this card.
Delta Medallion Status Not a Great Asset
Although Delta Reserve offers a quicker path to Medallion status in Delta's SkyMiles loyalty program, the lowest tier of Medallion status - Silver - doesn't offer many more benefits than the Delta Reserve Credit Card already gives. So this head-start will be most worth it to people looking to climb higher than Silver Medallion status, and climbing higher means spending a lot more with Delta.
Delta Reserve is for High-Spending Delta Travelers
The Delta Reserve Credit Card is only a realistic option for those who can commit to the spending and payments required to come out on top of the $550 annual fee. And of course, cardholders should always fly Delta to make the best use of this card, as many of its perks are related to frequent luxury travel on Delta Air Lines.
Other Things to Consider About the Delta Reserve Credit Card
Savings on Every Delta Flight
Every time Delta Reserve cardholders fly Delta, they get one free checked bag on Delta flights; access to complimentary seat upgrades; and a 20% rebate in the form of a statement credit on pre-purchased flight meals, in-flight food and beverages, and audio headsets. For frequent flyers, those savings will add up over time.
High-End Airport Lounge Access
Delta Reserve cardholders receive complimentary same-day passes to The Centurion Lounge - which is reserved for certain Amex cardholders only, so you can't otherwise buy passes or a membership. Cardholders also get same-day passes to Delta SkyClubs, which would otherwise be worth more than $500 annually. These passes are available as long as cardholders have a departing Delta flight that day.
Extra Statement Credits
Delta Reserve cardholders can speed past airport security and customs screenings for free. Every 4 or 4.5 years, cardholders receive a fee credit for either Global Entry or TSA PreCheck, respectively. When cardholders pay the application fee for one of these services, Delta Reserve reimburses the fee.
American Express Cards Have Relatively Low Acceptance Abroad
American Express is not as widely accepted outside of the U.S. as Visa, Mastercard or Discover. So the Delta Reserve Amex Credit Card may not be the best all-purpose travel card for foreign excursions.
Pre-Qualification Is Available
The American Express website allows potential applicants to see if they're pre-qualified for the Delta Reserve Credit Card before they apply.
Delta Reserve Credit Card vs. The Competition
Info













Annual Fee
$550
$250
$550
Rewards Bonus
80,000 miles
90,000 miles
60,000 points
Rewards Rate
1 - 3 miles / $1
1 - 3 miles / $1
1 - 10 points / $1
Purchase Intro APR
N/A
N/A
N/A
Transfer Intro APR
N/A
N/A
N/A
Regular APR
15.74% - 24.74% (V)
15.74% - 24.74% (V)
16.99% - 23.99% (V)
Editors' Rating
3.0 / 5
3.5 / 5
4.4 / 5
Details, Rates & Fees
Learn More
Rates & Fees


Terms Apply

Learn More
Rates & Fees


Terms Apply

Learn More
Winners