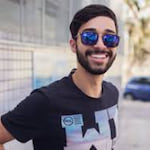 Leon Denerus
WalletHub Analyst
Leon Denerus' Info
Former mechanic, now workin for WalletHub and taking care of my two beautiful daughters, Emma and Ally.

I love all things cars. I also know a thing or two about financing, credit cards, leasing, etc.

I've worked for auto mechanics, parts dealers, body shops and in the back of dealerships since I was 15. I have seen way too many people get ripped off at pretty much all of them! Taking out another loan just to fix the car that you already have a loan on is not smart. There is usually a work around. I'll help if I can!