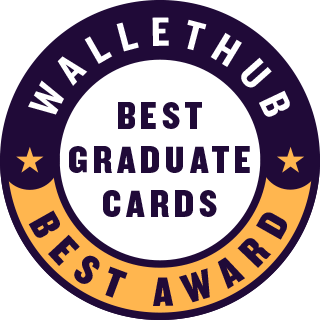 The best credit card for recent college graduates is the
Petal 2 Visa Card
. It has a
$0
annual fee and gives
1 - 1.5% cash back
on all eligible purchases. Plus, even recent grads with limited or no credit history should have good odds of getting approved.
There are actually several good options available right now, both among starter credit cards and credit cards for grads with good credit. You can find a summary of our favorites below.
Best Credit Cards for Graduate Students Comparison
10 Money-Saving Tips for College Grads
Even with a specially curated selection of offers to choose from, finding the very best credit card for your needs can be tough. And getting the right card is just the beginning. You also have to use it responsibly, which isn't always so easy in the face of real-world demands.
Fortunately, we've got some pointers that will help you stay on the right path.
Gauge the Market: You need a basis for comparison to truly understand a given credit card offer. Otherwise, it might as well be in another language. So make sure to check out WalletHub's latest Credit Card Landscape Report before submitting an application.

Get Your Priorities Straight: Cost-effective credit building should be a recent college graduate's top personal finance priority. So you should focus on cards that do not charge annual fees. Beyond that, look for rewards if you always pay your bill in full and 0% rates if you don't. But remember, these come after low fees on the card-term totem pole.

Celebrate School Spirit: Most colleges and universities have a co-branded credit card program, often offered through the school's alumni association. In addition to promoting engagement with the university (thus boosting donations), such offers may provide good value and should at least be considered.

Automate Everything: Considering young people's innate forgetfulness and how hectic starting a new chapter in life can be, it's probably best not to rely on memory to meet important deadlines, such as due dates for monthly payments.

Setting up automatic payments from a bank account will help you avoid wasting money on interest charges and late fees. It will also help you avoid costly credit score damage. And if you want to take things a step further, you can even set up alerts for when you're approaching your credit limit. Maxing out a credit card is bad for your credit score, too.

Save & Invest: Set yourself up to withstand future economic downturns by setting aside at least 10% of your monthly take-home pay. Your goal should be to establish a rainy-day fund with about a year's worth of income, which you can fall back on in times of trouble. "As a young adult, it's crucial to have at least a few thousand dollars in the bank to get you through the first few months after graduation," said Andrew Josuweit, CEO of Student Loan Hero.

It's also important to begin saving for retirement as early as possible. This might mean putting money into an IRA, which could be helpful come tax time. Or it could involve contributing to an employer's 401(k) plan, especially if your employer will match what you put in.

Stashing cash in a retirement account removes the temptation to spend savings and allows you to benefit from years of compound interest. So even if your income is limited early on, you should still make a point of putting away as much as you can afford. You'll thank yourself decades from now.

Always Build Credit (ABC): It bears repeating just how important good credit is in the real world. After all, it affects everything from the credit card and loan terms you can get to your insurance premiums, job prospects, and ability to find either a place to live or a car to drive.

With that being said, the earlier you begin building credit, the better (and the more you'll save over the course of your lifetime). To that end, you can keep a close eye on your credit and get personalized tips for how to improve it by signing up for a free WalletHub account. WalletHub is the first and only site to offer free credit scores and full credit reports that are updated on a daily basis.

Be Frugal: We don't need everything we want. And the sooner you come to that realization, the less learning this lesson will have to cost you. So approach your money as a limited resource that must be allocated carefully. This will force you to prioritize, for one thing. And it will enable you to splurge a bit on the things you really care about, if you so choose, thanks to money saved by passing on unnecessary temptations.

"Continue living a student lifestyle as long as possible," said Erik Carter, resident financial planner with Financial Finesse, Inc. "It's tempting to want to automatically increase your lifestyle with a new job but building those savings can make a huge difference in your financial freedom."

Comparison Shop for Grad School: Attending college is clearly a wise financial move. But being strategic about which school to attend, what to major in, and whether or not to pursue an advanced degree will help you maximize the return on your investment, not to mention minimize the burden of student loan debt. The best approach is to compare the cost of obtaining a given degree to the employment rates and salaries of alumni in the field. This will give you a sense of how long it will take to recoup what you spend.

"When finance is ignored in life decisions, young people lose out big time on future opportunities," said Peter Bielagus, founder of Wealth Educators International. "The student who falls in love with a college because it has a cool campus and a new $80 million dollar fitness center, but borrows through the nose to go there, sets their life on a very limiting path."

Relocate Opportunistically: Although it might be tempting to stay somewhere familiar, moving (at least temporarily) could be a great career move. Job prospects and living costs vary widely across the country, after all. Checking out the Best & Worst Cities for Wallet Wellness will give you an idea of which cities' economies are growing and where average salaries go furthest.

Improve Your Financial Literacy: The financial unpreparedness of most college graduates is "one of the worst failings of higher education," according to Thomas Smythe, an associate professor at Furman University, because "it is the one area of life that we know everyone has to deal with whether they like it or not."
In other words, you probably have some catching up to do. So start learning the tenets of responsible money management as soon as possible. You can get a sense of where skills stand by taking our quiz and getting your
WalletLiteracy Score
. And doing so soon after graduation is especially important. "The biggest financial impact and habits can be made in the first few years after graduation," said Gregory A. Kuhlemeyer, a professor of business at Carroll University.
Finally, it's worth noting that there's a difference between getting a credit card after graduating from school and graduating to a better credit score, plus even more attractive credit card offers. In other words, you need to use your card responsibly if you want to take advantage of this opportunity.
But a lot can go wrong. So to help you avoid the biggest pitfalls, we polled a panel of experts about the most common credit card mistakes that recent graduates make.
Methodology for Selecting the Best Credit Cards for College Graduates
To identify the best credit cards for graduates, WalletHub's editors compared 1,500+ credit card offers based on their rewards, rates, fees and credit score requirements for graduates.
In general, we focused on the terms that are most relevant to each type of transaction. For example, in choosing the best card for an initial rewards bonus, we concentrated on the bonus amount (in dollar terms), the amount a cardholder must spend to qualify for it, and the card's annual fee.
Additional information about the criteria used to select cards in other categories can be found below.
In selecting the cards with the best rewards for graduates with good credit, we considered how much someone who pays his or her bills in full every month would save, taking into account the card's annual fee. We used the average American's $36,506 in annual expenditures that can be paid for with a credit card as a benchmark.
In selecting the best travel rewards, we considered the student credit cards which offer the highest value per redeemable points towards travel, the card's annual fee and the foreign transaction fee.
In selecting the best credit cards for 0% financing, we identified the student cards with the longest 0% introductory periods and used their regular APRs as a tiebreaker.
Selections for the best credit cards for graduates with no .EDU email or credit missteps are based on the security deposit required and the annual fee
Some cards may come from WalletHub advertising partners, but advertising status played absolutely no role in the selection process. Cards were picked for their terms alone.