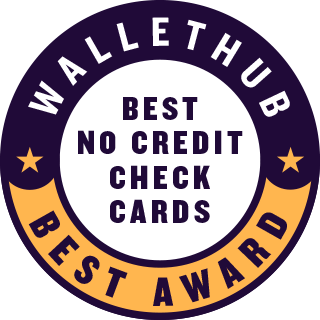 If none of the credit cards available without a credit check suit you, the next best thing is to minimize the impact of the credit check that will occur when you apply for your chosen card. There are two ways to do that: by finding a card with high approval odds so you only have to apply once, and by scheduling your application so it's not within six months of any loan application.

The second part is pretty straightforward. If you don't need to put your best credit score forward in the near future for a financial transaction with a lot of money involved, like a mortgage or car loan, temporary credit score damage shouldn't be an issue. But finding a card with high approval odds is a bit tougher. Don't worry, we'll lay out some tips below.
Check for Preapproval

Most major credit card companies will show you which of their cards you're likely to be approved for, based only on a soft credit check that won't hurt your score. You just have to go to their preapproval pages one by one and supply some basic personal information, such as your name, your birthdate and the last four digits of your Social Security number. Or you can simply let the results of one or two preapproval checks guide you. For example, if you get preapproved for a card that requires good credit, you should have a good chance of getting other credit cards for good credit.
Become an Authorized User
Credit card companies don't do credit checks on authorized users. There's no reason to, considering authorized users aren't responsible for paying the bill. So if you want an unsecured credit card without a credit check, your best bet is to ask a family member to add you to an account. That person may or may not choose to give you a card with which to make purchases, but your credit score will improve either way. The primary accountholder just has to make on-time monthly payments.
Get Personalized Recommendations from WalletHub
You can get a quick recommendation from WalletHub's CardAdvisor by answering a few simple, anonymous questions. Or sign up for a free WalletHub account and tell us a bit about what's in your wallet as well as your financial goals. We'll run several simulations based on that data as well as the contents of your credit report and tell you which credit cards offer the most savings and the highest approval odds. Now that you have a feel for all your options, you may want to take another look at the top no credit check credit cards. For your convenience, we'll recap them below.
Best Credit Cards with No Credit Check Comparison
For more information about what a credit check entails, see our
guide on credit inquiries
.
Methodology for Selecting the Best No Credit Check Credit Cards
To identify the best credit cards with no credit check required for approval, WalletHub's editors regularly compare more than 1,500 credit card offers. We first evaluate the cards' overall suitability by researching their application review and approval policies. In the event that a card's terms and conditions do not make it clear whether a credit check is necessary, we contact the issuer's customer service department for clarification.
After narrowing down the pool of offers to just credit cards without credit check requirements, we compare the remaining cards based on their fees, rewards, deposit requirement, APR and more. This allows us to select the best no credit check credit cards in the most popular categories.