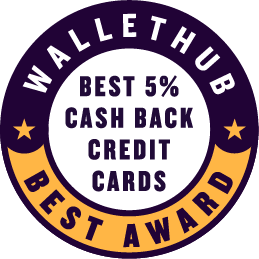 The best 5% credit cards are the
Chase Freedom Flex℠
,
Discover it® Cash Back
, and the
Capital One Walmart Rewards® Mastercard®
. These 5% cards stand out because of their $0 annual fees and other great rewards that support their 5% bonus categories, which may require activation.
Those aren't the only attractive offers available, though. You can see how the rest of the top options compare below.
Best 5% Cash Back Credit Cards Comparison
*Quarterly rotating categories up to a maximum cap, requires activation.
Before applying for a 5% credit card offer, make sure that you understand exactly what, if anything, is required of you in order to qualify for the 5% rate. In some cases, you might have to activate new 5% cash back categories each quarter, for example.
Methodology for Selecting the Best 5% Cash Back Credit Cards
To identify the best 5% cash back credit cards, WalletHub's editors compare more than 1,500 credit card offers to first determine which cards offer at least 5% back in at least one major purchase category. We then compare the eligible cards based on how much of the average person's spending would earn 5% back and how much total rewards value the average person would earn over the course of two years, after subtracting any annual fees.
In addition to 5% rewards rates and annual fees, we take into account approval requirements and the type of cardholder each offer is intended for. In the interest of not excluding cards with great terms unnecessarily, we do not automatically rule out cards offering rewards in the form of points or miles. Rather, we factor the cash value and ease of conversion into our final selection of the best 5% credit cards. We also update our picks whenever new offers come about or existing offers change substantially.