John Kiernan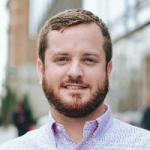 WalletHub
Best Credit Cards for Students with Bad Credit
WalletHub makes it easy to find the best student credit card with bad credit.
WalletHub's Best Credit Cards for Students with Bad Credit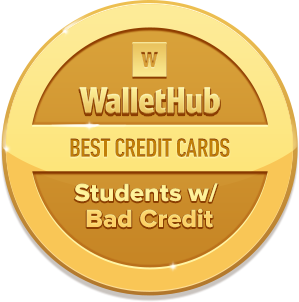 The best credit card for students with bad credit is
Discover it® Secured Credit Card
because it has a $0 annual fee, a $0 foreign transaction fee and very nice rewards. The Discover it Secured Credit Card gives 2% cash back on a total of $1,000 spent each quarter at gas stations and restaurants – great for commuting and eating around campus. All other purchases earn 1% back. Discover also doubles all the rewards cardholders earn the first year.
You don't have to be a student to get the Discover it Secured Credit Card. But "student" credit cards do not accept applicants with poor credit. So you have to consider other options. With that in mind, WalletHub's editors compared 1,000+ credit card offers in search of the best cards for students with bad credit, and you can find their selections below.
Best Credit Cards for Students with Bad Credit Comparison
If you happen to have bad credit as a student because of mistakes made with a credit card you were an authorized user on, things actually aren't so bad. Authorized users aren't responsible for making payments, so they can't really be punished for mistakes made by the main accountholder. As a result, you can simply ask the major credit bureaus to remove any authorized-user accounts that have negative information associated with them. Doing so could immediately improve your credit standing and expand your credit-card options.
Why People Trust WalletHub
Unlike other sites that only promote cards they're paid by, WalletHub's editors focus on finding the best cards. WalletHub makes it easy to find the best credit cards for students with bad credit.
---
Best Credit Cards for Students with Bad Credit FAQ
Comparing student credit cards with bad credit can be tough. But you've got the knowledgeable WalletHub community on your side. We encourage everyone to share their knowledge while respecting our content guidelines. Please keep in mind that editorial and user-generated content on this page is not reviewed or otherwise endorsed by any financial institution. In addition, it is not the financial institution's responsibility to ensure all posts and questions are answered....show more
show less
Searching for answers...
No
Matching Results
Not Finding Your Question?

Ask Your Own
Featured Credit Cards
Expert Opinions
Students with poor credit are a vulnerable group, in many respects. And in the interest of producing some actionable advice to help them rebound, we posed the following questions to a panel of experts. You can check out who they are and what they had to say below.
Ask the Experts: Credit Card Tips for Students with Bad Credit
• What advice do you have for students who find themselves with a bad credit score?
• What should students with bad credit look for in a credit card, and how should they use it?
• Would you recommend that a student with poor credit open a secured credit card account?
• Is there any benefit to having bad credit as a student versus later in life?
We work hard to show you up-to-date product terms, however, this information does not originate from us and thus, we do not guarantee its accuracy. Actual terms may vary. Before submitting an application, always verify all terms and conditions with the offering institution. Please let us know if you notice any differences.
† Approval Odds are WalletHub estimates intended to gauge your likelihood of approval for a particular product. Approval Odds are based on WalletHub data and are not provided or endorsed by the lender. Approval Odds are not meant to imply or guarantee that you will be approved by the lender or that credit will be extended. WalletHub may share your information with third-parties in order to show personalized offers, as well as enable you to interact more easily with pre-fill forms or applications. You can opt-out of sharing your personal info here.
Ad Disclosure: Certain offers that appear on this site originate from paying advertisers, and this will be noted on an offer's details page using the designation "Sponsored", where applicable. Advertising may impact how and where products appear on this site (including, for example, the order in which they appear). At WalletHub we try to present a wide array of offers, but our offers do not represent all financial services companies or products.

Editorial and user-generated content on this page is not provided, commissioned, reviewed, approved or otherwise endorsed by any issuer.
Your web browser (Internet Explorer) is out of date and no longer supported.
Please download one of these up-to-date, free and excellent browsers: